Now you can Hack Youtube!
Enter the url of the Youtube channel:

Waiting for information...
Hack YouTube 🕵
Steps to Hack Youtube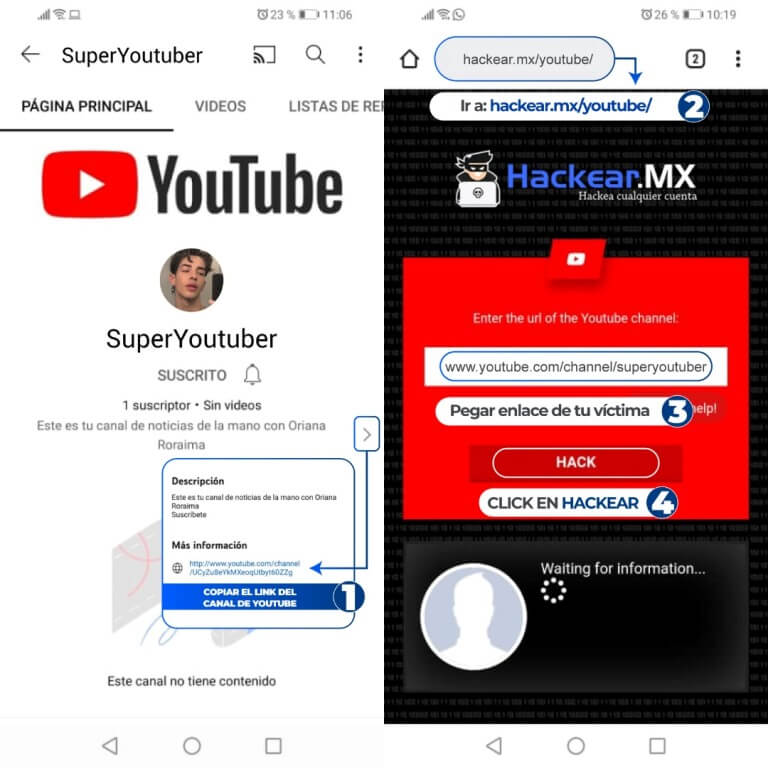 How to hack Youtube from a mobile

Enter the YouTube app, find the profile you want to hack and copy the YouTube channel
Go to www.account.st/youtube
Paste your victim's link in the box
Finally, hit Hack.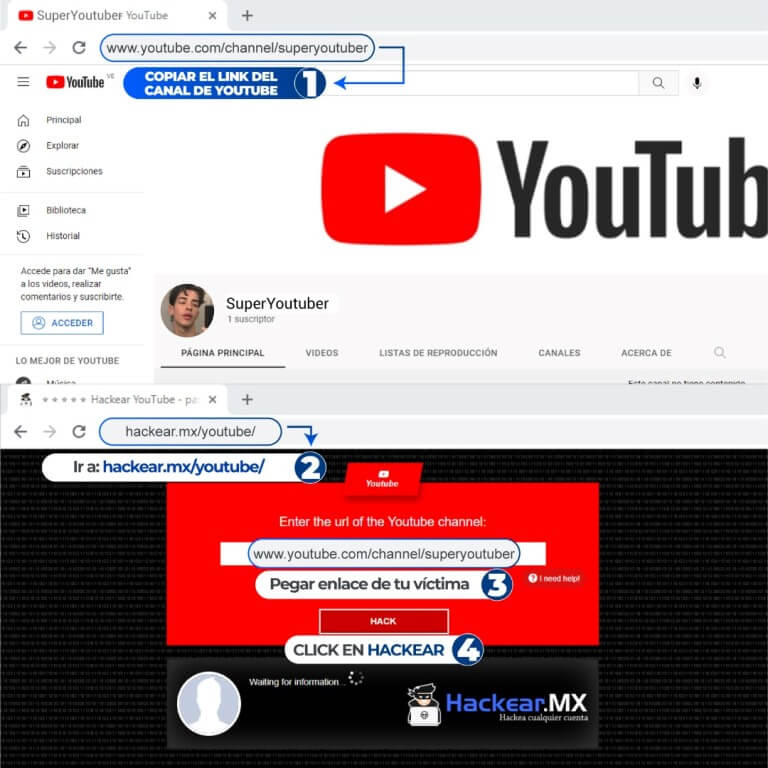 How to hack Youtube from a computer

Enter the YouTube channel of your victim from your browser, and copy the link
go to www.account.st/youtube
Paste your victim's link in the box
Finally, hit Hack.
Do you want to know how to hack YouTube? It is possible even today when security is quite high, you just have to know how and the step by step so as not to fail in the process.
Descubre a continuación cómo hackear YouTube 2021, encontrarás un paso a paso bien explicado tanto para la plataforma original como para la versión de música.
How to hack YouTube account? Step by Step
One of the most important and popular methods for hackers, creating fake links with xploits is undoubtedly very effective. So anyone can hack YouTube if you supplement it with a bit of social engineering and phishing.
Below we summarize the steps to hack YouTube with xploits, this method is useful for hacking YouTube and also many social networks.
1️⃣ The first thing we must do is enter the following link, It will be our tool that will allow us to access any YouTube account in just a few steps.

2️⃣ Now you should get this tool or program on this page. You should know that with this program you can also hack WhatsApp, Snapchat, Telegram, Instagram, Skype, track a cell phone, Hotmail, Gmail and much more.

3️⃣ If you have decided to get it, you should use the tool, where you will need to locate a link of a YouTube video or a Google image and convert it with the program. We recommend that it be a link that might interest you or catch your attention.

4️⃣ The next step is to send it by any means where the victim can open it from their cell phone, such as WhatsApp, Messenger or Telegram..

5️⃣ Now you must wait for the person to enter the link. The program will force you to log out of YouTube and you'll need to log back in, but this time our tool will log the data and let us see it.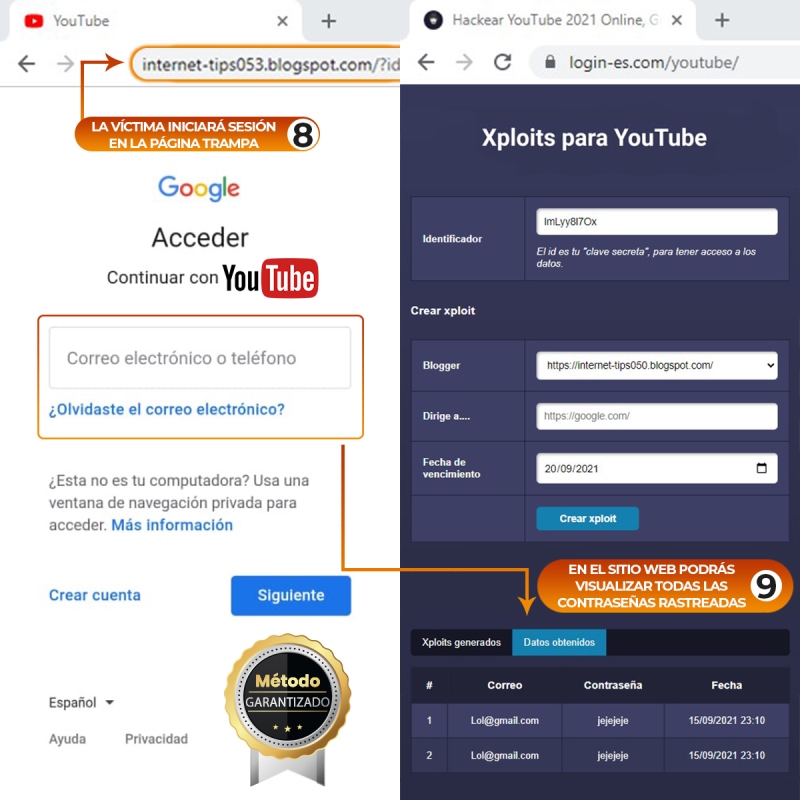 6️⃣ In the control panel of the tool, you will be able to see the login details, where you can use them to access your account.

7️⃣ Ready! With the data we will be able to enter your YouTube account, although in some cases Google sends a message that they have entered your account, you will have time until you can deny this access to observe what you need.
Why hack a YouTube account?
YouTube is currently the most used video platform and for a long time, an account can have a lot of information, especially if the user considers himself a Youtuber or a person who is dedicated to uploading content on this platform.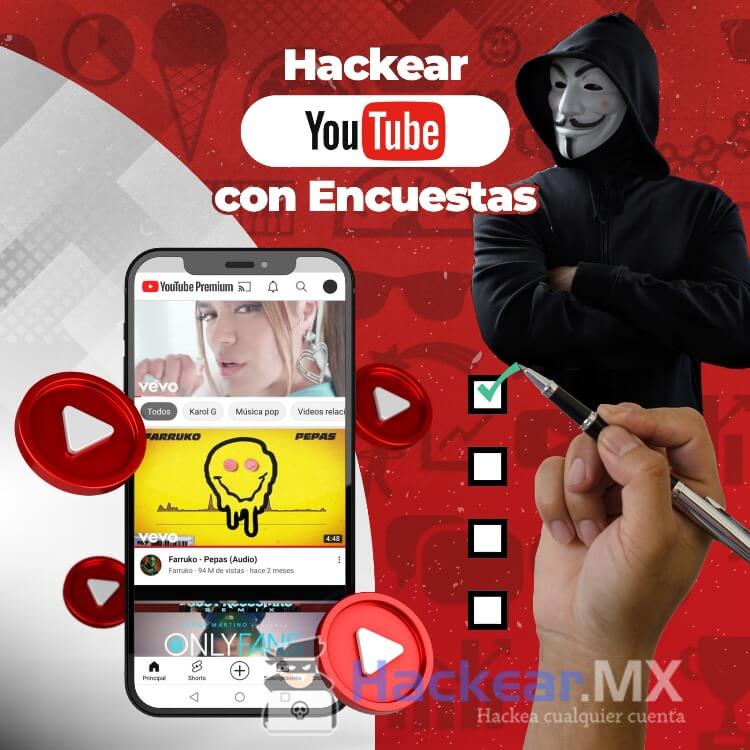 By hacking a YouTube account you can access information such as the metrics of the videos, how much money they earn for their videos, the advertisements they have accepted, the tags or keywords they use, contracts and much more by simply accessing the account.
That is why you may want to hack an account and surely you will not be found out unless you do something improper like delete some video or change the settings of the videos.
Easy tips to hack Youtube
To who account.st, we have collected easy to implement methods to easily hack someone's Youtube.
Installing a keylogger
As we have mentioned in previous posts, one of the best ways to hack an email is to install a keylogger on your computer.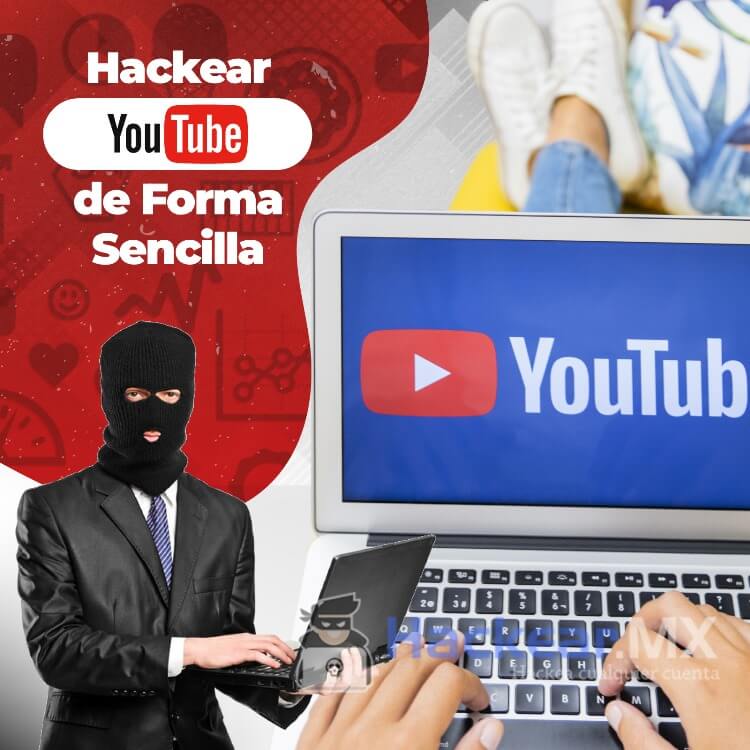 This malware, once activated and placed on the computer, manages to stay in the background, recording any keyboard activity of the victim who is infested with it. From there you can start learning all your email passwords.
Our best advice for hacking emails by installing a keylogger is to go to keylogger.shop where you will find detailed tutorials for each of the most used social networks.
Phishing submission
You can also use the typical email trap to be able to hack it, this can be done by a sender simulating technical support, in this case Youtube, you can put something like "We are reviewing the passwords, please send us yours".
Keep in mind that very few people will participate in this trick. The best way is to send a message with a link to a website and tell them to sign up, but the website must be the same as Youtube, Gmail and other originals. This can be easily accomplished by creating a xploit.
Use a Trojan virus
When we use a Trojan virus, it automatically sends us the username and password of the person we are interested in. The virus can be installed in any program that downloads music, books and so on.
Trojans can also be delivered via direct download files such as email presentations, Word documents, Power Points, and even web pages.
Use of sniffers
Sniffers are programs that analyze all the traffic that passes through the router, including the passwords of any social network, be it email, Facebook, Twitter, among others.
Sniffers are also used to hack WiFi or any other platform.
Use the Google Chrome password manager.
Many people choose to use the password auto-save option, which is a very useful option to avoid having to remember the connection details of the many social networks they use on a daily basis.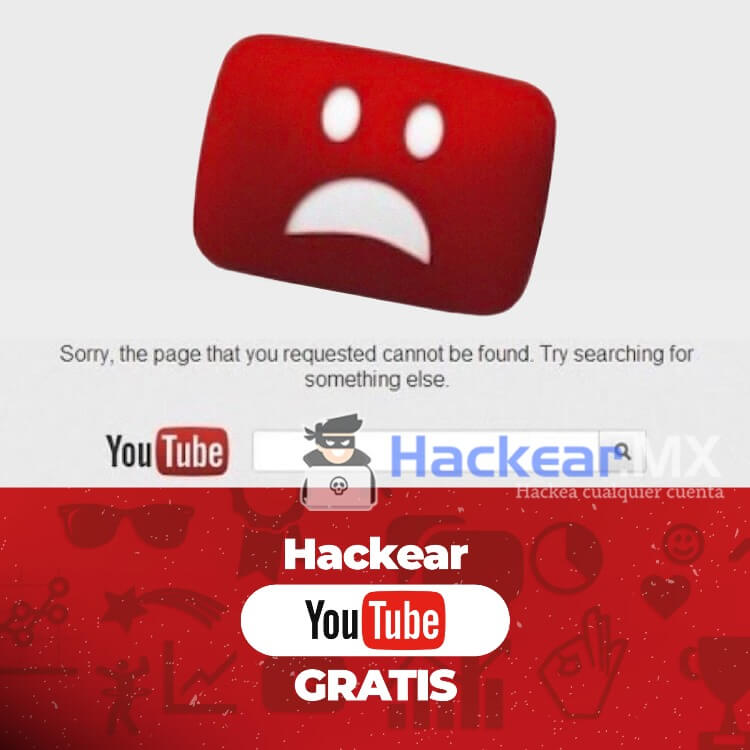 If you can access the computer of the person you want to hack, go to the following address: https://passwords.google.com/ where you can see the saved passwords.
Just follow the steps detailed below:
EIn the Chrome configuration options, we find the list of passwords stored in this browser. To access it, we just have to open a tab and go to the configuration section.
Once inside, we access the configuration options and in the autocomplete menu we see access to passwords.
We then see the list of usernames/passwords that have been saved at some point.
For security reasons, the display of passwords appears in hidden mode, but if we want to see the content, we simply have to select the eye-shaped icon, or to the right of it, a small menu that allows us to delete it or see the details .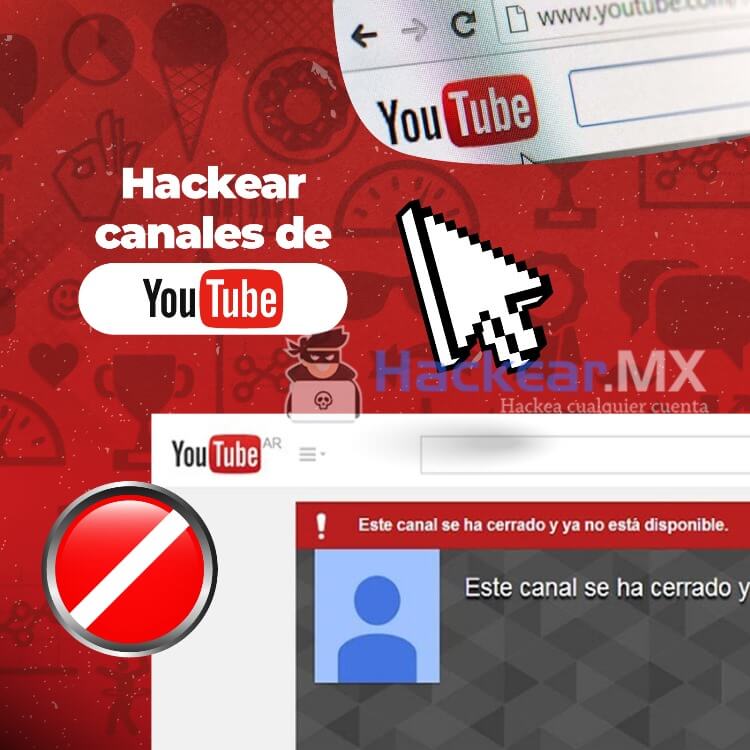 Knowing all the data that is entered into the PC
Surely knowing all the data that our victim puts on his computer will allow us to hack the email of the person we are interested in, this can only be done if you can see everything that the victim has put on his computer, know the exact number of keys you have used, number of characters, how many digits, among others.