Now you can Hack TikTok!
TikTok
Insert the Tiktok username:

Waiting for information...
Hack TikTok 🕵
Steps to Hack a TikTok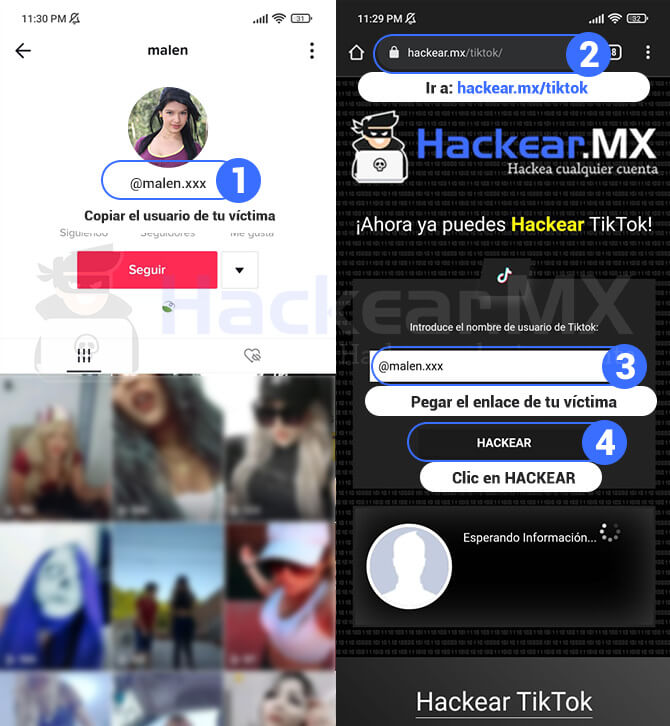 How to hack TikTok from mobile

Enter the TikTok app, find the profile you want to hack and copy the user or the user link
Go to www.account.st/tiktok
Paste your victim's username into the box
Finally, hit Hack.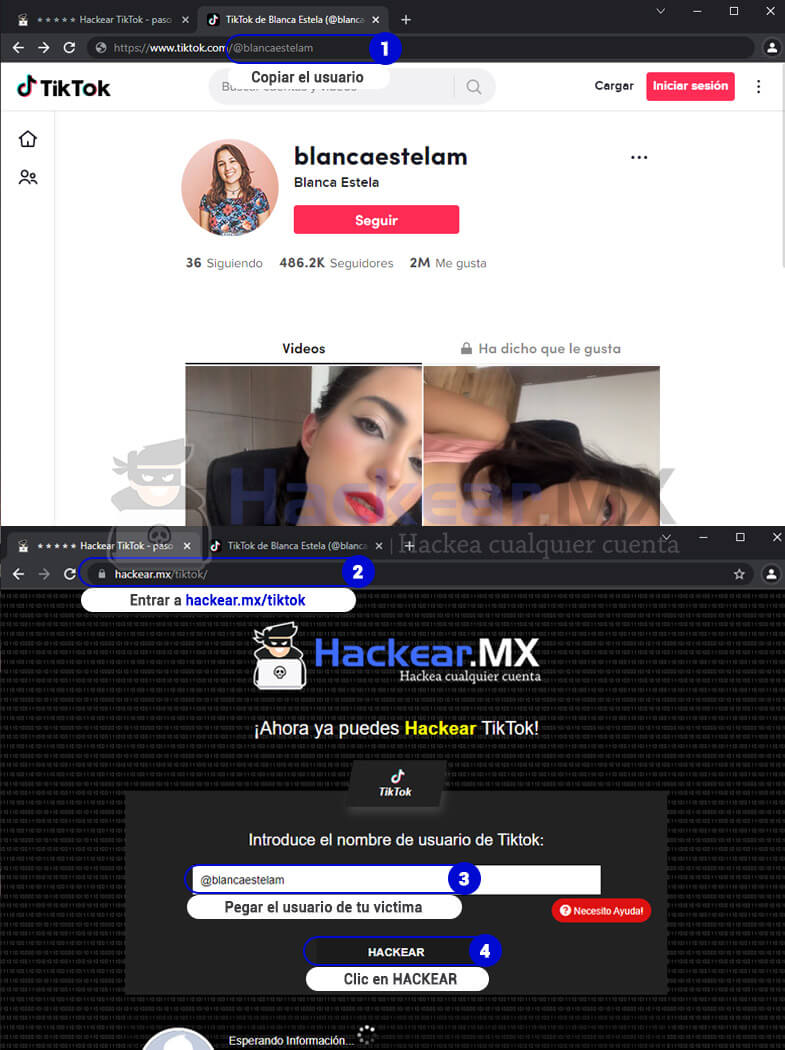 How to hack TikTok from a computer

Enter your victim's TikTok from your browser, and copy the link or just the username
go to www.account.st/tiktok
Paste your victim's username into the box
Finally, hit Hack.
How to hack a TikTok account? surely you have read many pages without finding the answer you want, here are several simple and effective solutions.
If you follow the steps that we share below, you will be able to have the access data of the person you want to hack. It will also help you to be aware of the traps that exist to hack a TikTok Online.
How to hack tiktok accounts with username
www.account.st/tiktok
puts at your disposal a software in which you can place the user of your victim and just by clicking on "
Hack
" you start the process.
The page will not release your access data so quickly, it is necessary that you first carry out a survey or get 5 friends as referrals to unlock your data. Once this is done, you will be able to enter the hacked TikTok account.
Hack TikTok account with an exploit
Surely many have already told you that it is not impossible to hack a social network, without a doubt they are people who do not know basic computer terms such as exploit, phishing, social engineering, etc.
What is an xploits?
An exploit or xploits can be defined as a computer attack on any application or social network taking advantage of its weaknesses.
We are talking about possible software capable of controlling and stealing data from a specific system, that is, if there is a tool for you to achieve your goals.
However, many insist that TikTok and other networks are impossible to hack, but the facts speak for themselves. We can conclude that it can be done, only that few know how to do it, and our job is that you be part of those who, when trying, achieve it.
That is why we will not use such complicated terms and we will share with you a second method that we found in www.login-online.me It is a kind of phishing, that is, a deception technique where you impersonate the TikTok platform to obtain your victim's access data.
Best of all, you don't have to know anything about programming or anything like that, the website itself provides you with the tool.
Step by step to steal free tiktok accounts with xploit
This tool is free and very easy to use: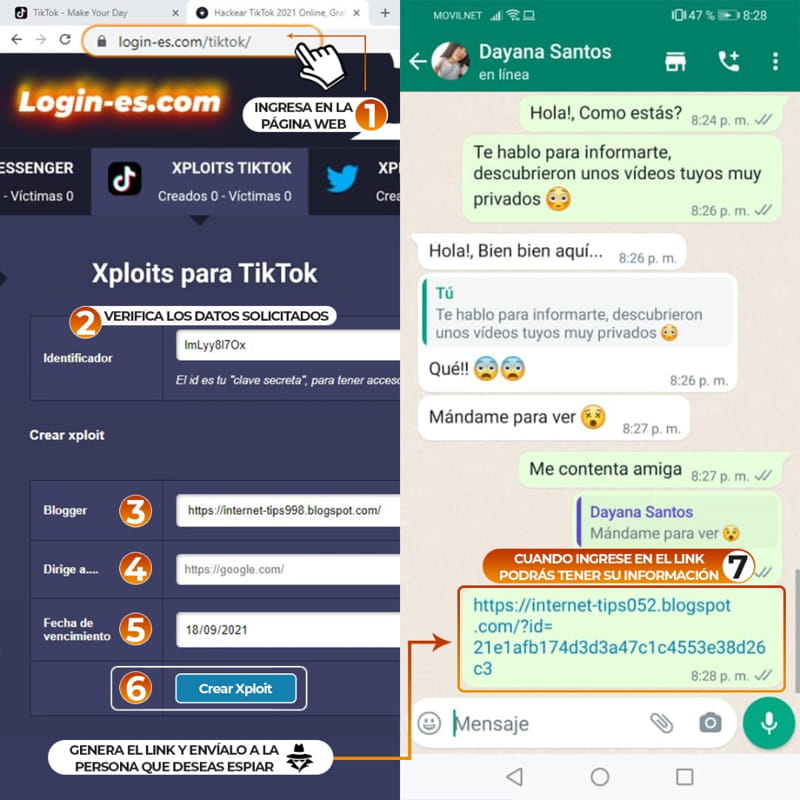 Visit www.login-online.me
Write down your identifier in case you need it later.
Select the URL you want to use to trick your victim. When visiting this address she will see an interface very similar to that of TikTok. Once you enter your details and press enter: you've already succeeded.
Directs to... refers to the page that will be redirected after the previous step. We recommend that it be Google so that it believes there was an error in the browser.
You can also select an expiration date which is when the cheat expires.
Press "Create Xploit" and below you have the link that you are going to use to trick the victim. You just have to make sure that it tries to enter TikTok from that link (we'll give you some ideas later).
Puedes enviar ese enlace por el medio que mejor te parezca.
Next to the "
Xploits generated
" button there is another button called "Data Obtained". If you press there you will find the data that you have managed to get the victim to share with you.
How to carry out the deception
The most difficult thing will be to get the person to enter your TikTok account through this link. There are many ways of doing it:
Send a private message telling them to open their account from that link to see your latest post (you can target your post).
If you want to keep your identity, send a message from an unknown account offering some benefit when entering TikTok through that link. Rather than offering a prize that nobody believes, the best thing is to promise that through that link you can see something that interests you: news, download the latest chapter of your best series, etc.
You can also turn that web address into a shortcut, you just have to right click and press "Save As", put it as a TikTok name to make it more believable and save it. Then you put it as a shortcut and change the browser icon to TikTok.
For this you just have to download the TikTok icon and right-click on the shortcut, select properties and there you will see the option to change icon. In this way you place it on the victim's computer and they will open it believing that it is a TikTok shortcut. You could also send him this shortcut by message as if it were the App for him to download.
How to hack TikTok via keylogger.shop
Hacking tiktok accounts easily is possible with programs like www.Keylogger.shop, is a program that allows you to record everything that the user types on the computer. In this way you will be able to know everything he is typing on his social networks and anywhere else on the computer as long as he uses the keyboard.
If you want to hack tiktok accounts you just have to install this program on the victim's computer, it is designed to stay hidden and protected so that no one can suspect that you are watching it. As soon as the victim enters TikTok with their credentials, you will already have their access data in your possession, which you can use later to enter their account.
Tiktok hack with findmydevice.com
More than hacking a TikTok account, it is the ideal complement if you suspect that your partner is cheating on you, or your children are in ways that do not suit them. Once you have hacked with the above methods you will be able to know the time of their appointments, but it will be difficult to know where exactly they are.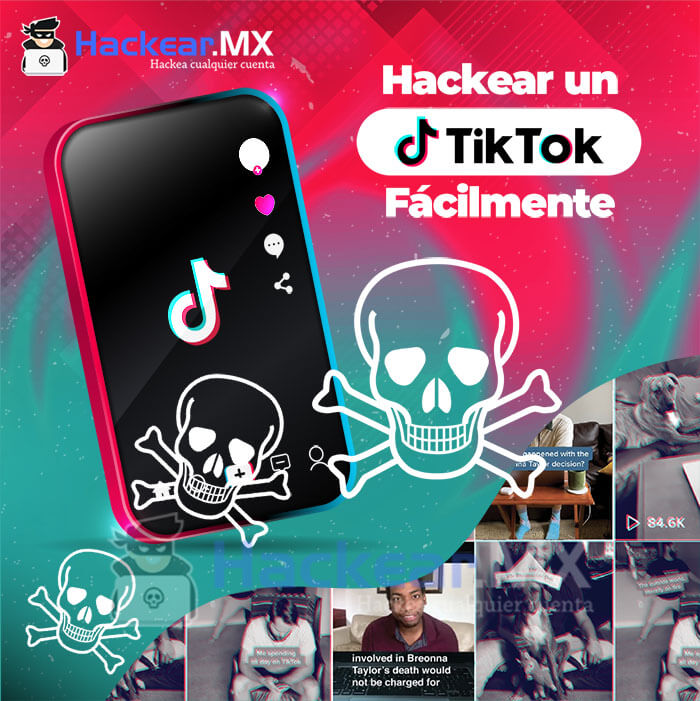 That's where apps like www.buscarmidispositivo.com it helps us, because once you install it on your victim's mobile you can have it located via GPS so that you can follow the steps.
Can you hack tiktok account from the DeepWeb?
On the DeepWeb you can find the unimaginable, and if we talk about hacking there are many rumours, one of them being that there are professionals who can even tap the phones of important politicians. Although that information is not safe, if we can find high-level hackers who will surely help you hack a simple TikTok account.
Do I recommend these professionals? Not at all, the DeepWeb is very insecure and you never know what you can find, I only share it because it is proof that hacking a tiktok account is possible, there are many highly personalized strategies.
Is it clear to you how to hack tiktok account? Don't waste any more time looking for Hack tiktok elsewhere, these are the best alternatives.
Before finishing, I would like to invite you to follow us on Kawai where we will upload videos teaching how to hack TikTok accounts and other social networks: https://s.kwai.app/s/0Kq16diN