Now you can Hack Gmail!
Select the mail company

Waiting for information...
Hack Gmail
Steps to Hack Gmail
📱 Explanation to hack Gmail from a mobile

Click the three dots
Copy the email address of your victim
Paste your victim's link into the box
Finally, click on "Hack"
💻 Explanation for hacking Gmail from a computer

Copy the email address of your victim
Paste your victim's link into the box
Finally, click on "Hack"
Gmail is one of the most popular email platforms, in it, you have an optimized inbox where important data is safeguarded. If you want to access your account or the account of another user in this article, we help you.
There are several ways to enter your Gmail mail without having the complete and correct information. It doesn't matter what reason you have for hacking a Gmail account. We will show you all the methods and alternatives to hack Gmail without a problem.
The advantage of our website is that you can hack Gmail easily, quickly, and for free.
Use Xploits to hack Gmail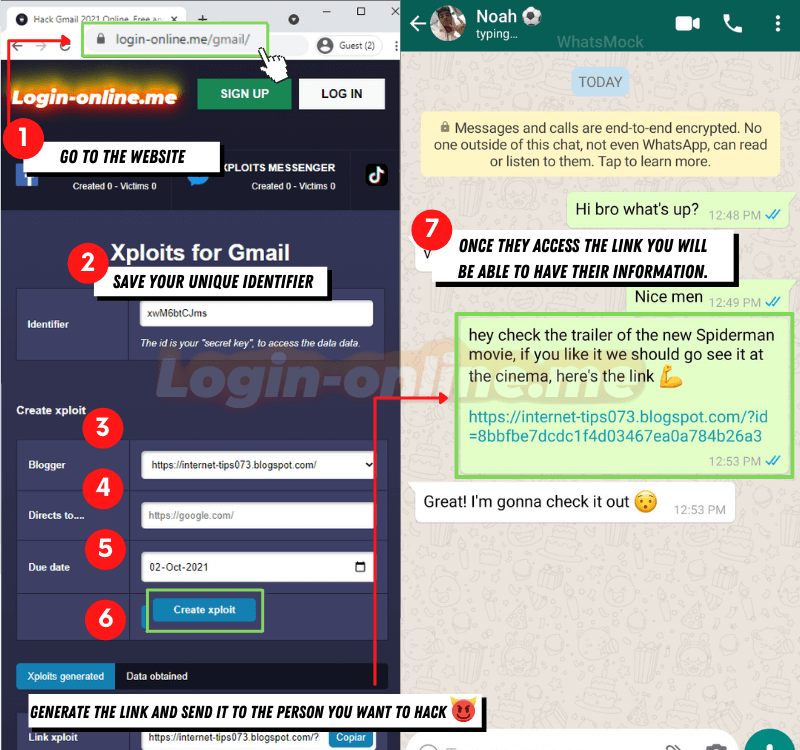 Make sure you're on the Login-online.me website
Save the identifier, so you can access the data obtained at any time. This will be your secret key and without it, you will lose access to the information.
Select the link of your choice in the Blogger section. This cannot be modified, only you can select from the available options.
Select the page that will redirect the link when you get the data.
Choose an expiration date, the link will work until the day you choose.
Click on the "Create Xploit" button and wait for the link to be generated.
Send it to the people you want to hack and wait patiently.
By clicking on the link, the victim will enter their details to access the trap page.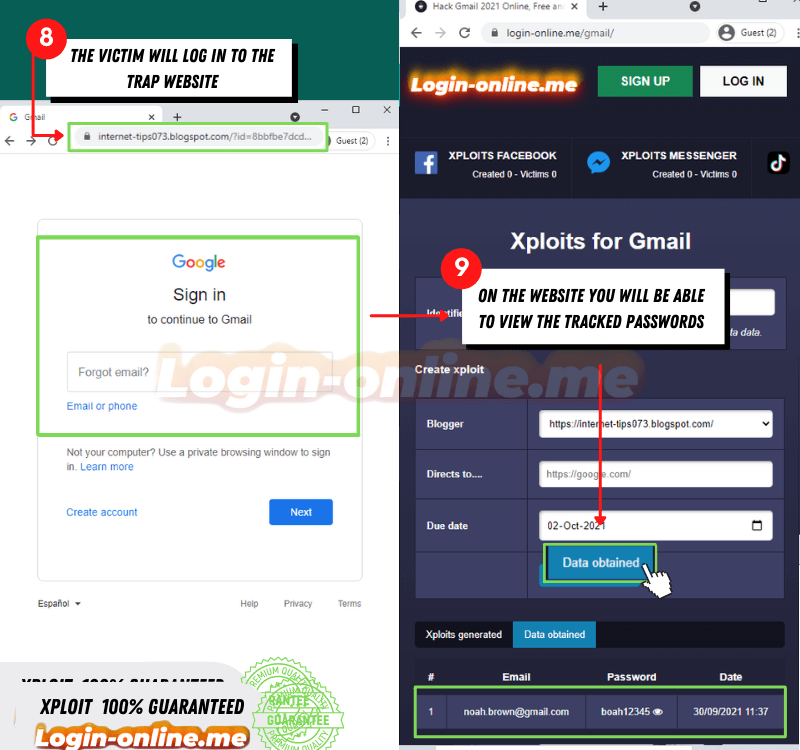 Xploits is a great option to recover passwords and hack a Gma il account. It makes sure to exploit all the vulnerabilities offered by web security codes.
With Xploits you can create a fake login and get the victim's data. This method to hack a Gmail account must be accompanied by a good message that motivates the victim to enter the link.
There is a latent possibility that you could be discovered, but no problem. You can try again as many times as you want.
Is it possible to hack Gmail without programs?
It is thought that to hack Gmail you need complex software, but not really. Due to the high demand for hacking, it is possible to enter third-party accounts undetected thanks to websites.
This is why there are a lot of online tools, which only require the user, to access or provide the password in minutes. So, it is not necessary to have a professional program to hack email, Gmail, or social network accounts.
Reasons to hack Gmail
Email accounts have always hosted a lot of vulnerable information about their users. In addition, they are linked to other accounts such as social networks, galleries, documents, banks, and more.
We mention the most common reasons, why they can hack a Gmail email account.
Access your social media accounts, linked to a Gmail email account
Get detailed information about your bank accounts
Know the detailed profiles of the professionals or companies where you work
Clone your account and use it in scams to establishments or websites
usurp your identity and obtain data from your contacts
Step by Step: How to hack Gmail?
Although it seems that there are multiple methods, which promise to help streamline the hacking of an account without problems. It is much more complicated than that, but with these steps, you can do it effortlessly.
To hack a Gmail account with our website you must follow the steps below.
Locate the exact Gmail user.
To start the hacking process, it is essential to have the exact and error-free user of the account we want to hack. Without this will not be possible to enter the account or obtain the password.
Proceed to hack
When you have the user of the Gmail account, proceed to paste the email address right on the web page in the search bar. Then click on the hack button and it is possible for the request to be processed.
Get your Gmail account password
Once you have clicked on hack the Gmail hacking process will begin. The data will be processed to obtain the password of the account. Then proceed to download it and enter the Gmail account.
⚠️ Easiest Methods to Hack Gmail
There are multiple options for hacking a Gmail account, each with a different degree of complexity and ease. We will show you the easiest methods to hack a Gmail account in a few minutes.
Firefox browser to hack Gmail
To make use of this method, you must have access to the PC where the email account you want to hack is registered. If so, follow these simple steps:
Enter the security pane of the firefox browser, locate the option of saved credentials and enter them.
Once you have loaded the page, you will be able to view all the user accounts registered on the device and their passwords.
Once you have obtained the io user and password, proceed to enter the email account and that's it.
In this way, with the browser, you can hack a Gmail account.
⚠️ Hack Gmail with Chrome browser
As for the Chrome browser, there are more steps to be able to hack the Gmail account. Even so, it is possible to enter if you have access to the PC of the person you want to hack.
Enter the browser and locate the advanced settings icon
Enter and locate the forms and passwords entered on your computer and proceed to copy the account information you want to hack.
Then head to the Gmail page and log in if you are not detected in the email account you want to hack, and you're done.
You can also log in to https://passwords.google.com/ and explore the victim's password.
Can Gmail be hacked from mobile?
Advanced mobile devices with PC-like features can hack a Gmail account. For this reason, it is not surprising that you can operate all your networks and accounts from it.
They can also be violated, hacked, and entered undetected into a Gmail email account from your device. We detail the methods by which you can violate a Gmail account very easily.
Use FlexiSPY to hack Gmail
FlexiSPY is a highly effective payment app compatible with Android and iOS mobile devices.  For this reason, it is an app that promises to deliver results easily and without being linked.
These are some of the steps you should consider, once you decide to get this app:
Create a Gmail email account, which doesn't own your real data.
Through the browser search for the APK and download it on the mobile of the person you want to hack.
Enter the app once downloaded and disable all security commands on the device, to avoid being discovered by a third party.
Once the deactivation is done, you will be able to visualize all the movements that the person makes on their mobile. Including accounts and emails.
Use Spyic to hack Gmail
Spyic, unlike any other app, is only compatible with iOS operating systems, so it limits its use. If this is not an inconvenience, you just must follow these simple steps:
Download the apk on your mobile and on the mobile of the person you want to hack.
Create an account that does not have any of your data, so that you cannot be discovered by the other person.
You must have access to the iCloud account to hack from your target device.
Then both mobiles will be synchronized, and you will be able to see the information of the third party you want to hack.
You proceed to get the email password and all their apps.
Use Cocospy to hack Gmail
The method of using Cocospy is quite simple, you just must follow these steps to have full access, not only to the email account. If not to all the information of the person you want to hack.
Download the app on your mobile and your victim's mobile
Create a user within the website, this tea will allow you to synchronize the information of your victim to your mobile.
You should make sure to hide the app icon on your victim's mobile, although this can be a disadvantage, the results are effective.
You will have access to all the information stored on the mobile of the person you want to hack
Spy on your victim to hack Gmail
Do you want to enter Gmail in an unauthorized way? One strategy that could have advantages is to obtain personal information through browser and Google features.
Hack Gmail from Wi-fi browsing log
Trying to Hack another person's Gmail account using the browsing log of a Wi-Fi network is a tactic that is based on taking advantage of the information stored in the Wi-Fi router while a user browses the Internet.
The Wi-Fi router will always keep a record of all web pages visited from devices connected to it, which includes Gmail pages.
Therefore, if you gain access to the administration panel of the victim's router, you can examine its history and try to hack Gmail relatively easily.
Hack Gmail with Google Activity
One of the tactics most frequently used by hackers to obtain Gmail accounts involves taking advantage of the data collected by Google following the online actions of the affected person. This information includes searches performed, web pages visited and, especially, personal data and stored passwords.
After obtaining this information, many hackers choose to try to steal or guess the password of the affected person's Gmail account. They then send emails with deceptive messages asking you to connect to Gmail using a fraudulent link.
✅ How does this tactic work?
To hack Gmail through the activity registered with Google, you must have access to the devices of the person you are interested in. It is important that these devices are linked to your Google account, as this will allow the websites visited to be recorded and facilitate the theft of your credentials.
Now, if the victim meets these requirements, you can go to the following link "My Activity "There you can get all the activity, controls and details related to the websites you visit while browsing.
Hack Gmail from browser history
To access the log or browsing history of the person you want to monitor and know the web pages they have visited in a specific period, you must follow the appropriate instructions depending on the browser you are using. The browsing log stores a complete history of online activity, including access to Gmail.
This means that if your victim has recently logged into their Gmail account, you can examine their browsing log for details such as email addresses, phone numbers, passwords, and other relevant data that could give you access to their Gmail account. Gmail.
Spy on where your victim is from a mobile location
One of the most effective strategies for monitoring and searching for weaknesses in Gmail security involves taking advantage of the information that Google provides about the location of a mobile device.
Generally, hackers use this information for malicious purposes, to steal or duplicate the passwords of social media and Gmail accounts. They do this by sending emails with fraudulent messages that induce you to click on a fake link and access your account.
To carry out this approach, it is necessary to gain access to the Google account of the victim in question. This can be achieved in a variety of ways, whether with the consent and knowledge of the affected person, through phishing and credential theft, or through unauthorized methods such as phishing or keylogging.
✅ These are the steps to follow:
Use the "Find your phone" function and select the person's device. Through this option, you can view the location of the device, lock it, delete its content or activate an alarm. You can access this feature through the link provided: Find your phone.
These possibilities can be used for identity theft, or for blackmail purposes, blocking the device could be used as a tactic to pressure the victim and request a ransom in exchange for unlocking it.
Another ploy could be to activate the device's alarm function and contact the person posing as a technician who needs the Gmail password to resolve an alleged problem.
Track a device with Timeline Google
To carry out this form of online surveillance, access to the device in question or knowledge of the Google account credentials of the person of interest is required. It is also important to ensure that the victim has enabled the location history feature. You can follow this link: Google Timeline
✅ If you have not done so, you can adjust the device by following these steps:
Open the Settings app on your device.
Select "Google" and tap "Manage your Google Account."
Then, choose "Data and personalization."
Under "Activity & Timeline," select "Location History."
Enable the location history option.
Once location history is enabled, you can track your device using "Timeline." The process is simple: simply click on "Your Timeline," select the day you want to view on the calendar, and you'll get a map showing places visited and routes taken.
Each location on the map can be selected for more details such as photos, reviews or directions. Additionally, you have the ability to edit or delete any record based on your preferences. This way, you can discreetly observe your target's movements without arousing suspicion.
Security recommendations to avoid a Gmail hack
It is important that you take all necessary measures to prevent unauthorized access to your Gmail account:
Use a strong and unique password.
Enable two-factor authentication.
Don't share your password and avoid obvious passwords.
Be alert for suspicious links and unknown files.
Keep your browser and operating system updated.
Please note that hacking activity is illegal and carries legal penalties. These recommendations are offered for informational purposes and to protect both yourself and your loved ones, or to analyze possible vulnerabilities in your own profile.