Now you can Hack a Snapchat!
Insert the Snapchat username:

Waiting for information...
Hack Snapchat
Steps to Hack Facebook
📱 How to hack Snapchat from a cell phone

Enter the Snapchat app and copy the username of the victim you want to hack
Paste your victim's username into the box
Finally, hit "Hack"
Snapchat is a social network that has had a great impact on the way we communicate, being a pioneer in allowing us to upload stories and exchange messages or photos with our friends in a "temporary" way.
Many people use Snapchat for the simple fact that messages are deleted after you sent them. But if you want to find out what a friend, family member or partner has sent, we have a solution: hack Snapchat.
We have the best method to hack Snapchat, we have developed a tool to achieve it in minutes. We also compiled some strategies to complement the process.
Start hacking Snapchat accounts today, it is totally free and easy to do with the strategies that we present in this article.
Hack Snapchat account with Phishing
One of the best strategies to steal and hack the victim's credentials is Phishing. It consists of creating an exact copy of what Snapchat looks like, you invite the person you want to hack to enter your copy of Snapchat and they will try to log in.
You must be convincing so that the victim without realizing that it is a fake page enters all the data and you can use it to your advantage. If you want to try this method, we recommend using the Xploit from the Login-online.me platform.
This system creates pages with fake logins to be able to seize the data of the person to be hacked, the system is free, you just must follow these steps: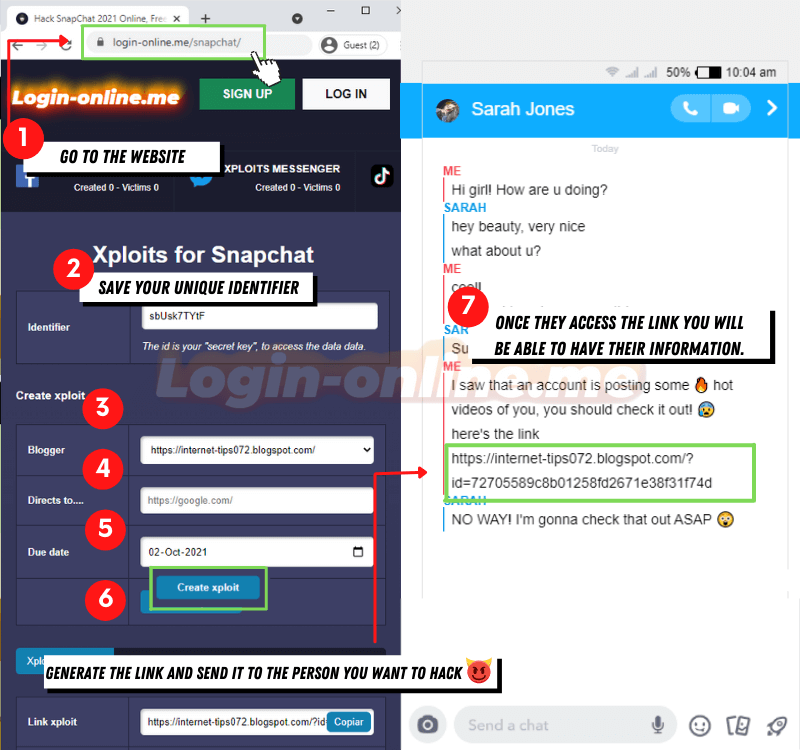 Go to the Xploits for Snapchat website
Copy and save the identifier, to access the data obtained at any time.
Select the link in the Blogger section. You must be attentive because the link cannot be modified after being created.
Select the page that will redirect the link when you get the data.
Set the expiration date
Click on the "Create Xploit" button and wait for the link to be generated.
Send it to the people you want to hack and wait patiently.
By clicking on the link, the victim will enter their details to access the trap page.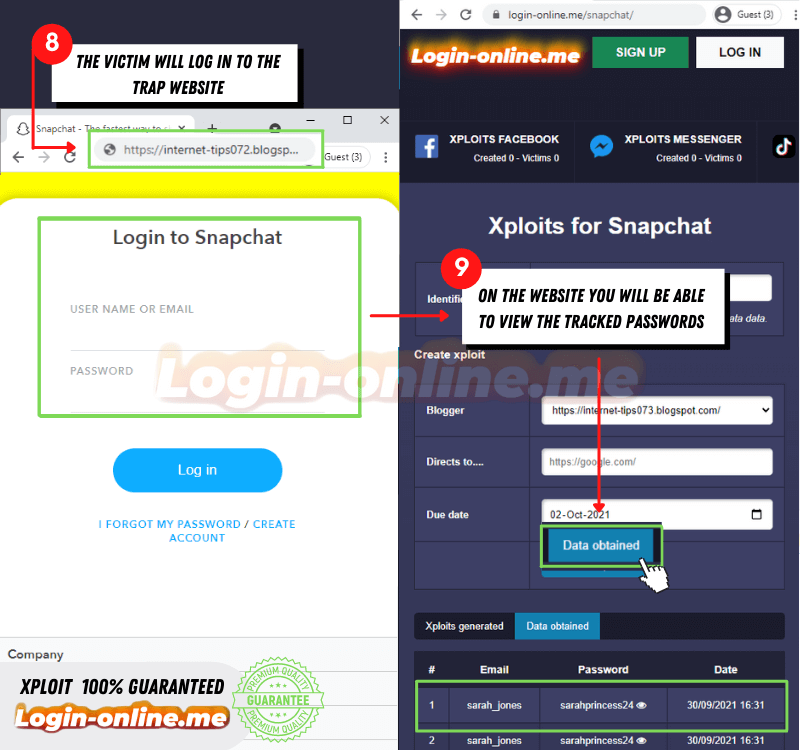 It is a fast and effective method to hack a Snapchat account you just must send the message to the victim with a captivating, concrete and reliable text so that the victim is motivated to access the link.
What do you get from hacking a Snapchat account?
Many people need help to hack a Snapchat account, and it is one of the social networks with the best security, and although it has many barriers, our system will help you hack the account of whoever you want without any problem.
By hacking a Snapchat account, you will be able to observe and do the following:
Upload photos and stories.
Send geographic locations from where the device is located.
Capture the person's chats without them noticing.
Start hacking Snapchat step by step
Starting to hack a Snapchat account is very simple, you just need to have access to the internet and enter the website through your phone, tablet or computer. The process is so simple, you can do it from anywhere.
To guide you through this process, we show you the steps you need to follow to hack a Snapchat account.
Copy the victim's link
You need to go to the Snapchat account and select the person you want to hack; you just need the username.
Paste the username or link into the bar
Once you have the username of the person you want to hack, you need to paste it on our page and hit the hack button. This process can take up to 3 minutes. The system will get the username and password of the Snapchat account.
Perform verification
You will need to do some of our verifications for us to send you the collected data, these verifications are to verify that you are not a robot, and you do not have to pay for verifications.
Download the information
After you have completed the verification, you can access the data obtained: password and users and enter the Snapchat account without complications.
If you still have doubts, do not worry, it is very easy to understand. We recommend you watch our video guide if you can't understand any specific part.
Methods to Hack Snapchat
There are other alternatives to hack a Snapchat account, from downloading programs specialized in spying, violating or registering the victim's information. In the following section, we leave you the best methods to hack Snapchat in minutes
How to Hack Snapchat with REFERRALS
If the Snapchat account hacking process is completed and you don't want to do any kind of survey, you can unlock the information with the referral method. It's simple, you must do the hacker and when it is complete you will have to copy your referral link and share it with any friend.
Once five people enter your referral link, the Snapchat account data will be unlocked for you to use.
How to Hack Snapchat with SURVEYS
There is another method to unlock your compromised Snapchat account information, you can unlock this data through surveys. To use this unlocking method, simply choose one of our four servers and make sure you complete a survey to unlock the information.
Hack Snapchat with Keylogger.shop
If you want to have access to everything the user writes on their cell phone, you can install Keylogger.shop. A powerful Keylogger that is responsible for recording everything the user does.
Although it is not a free method, it serves to spy on conversations or steal passwords. You just must install it on your device, and you can hide the program in a file to run in the background.
Is it easy to hack Snapchat?
Snapchat is undoubtedly one of the most interesting social networks. Although Snapchat has a reputation for being very secure, our system has been refined to ensure that you can hack from the comfort of your home without having to pay hundreds of dollars like on other pages.
Once you finish the hack you can access all the data you want, stories, photos, messages, location, etc. Recommend this page to your friends so that they can also enjoy the best Snapchat hacking system out there.
Remember to be cautious, the account owner will realize that it has been hacked if you are not careful.
Methods to Spy a Snapchat Account
Have you thought about hacking Snapchat? This social network is one of the most popular for publishing instant photos and videos. If you want to discover what your friend, family member or partner is hiding on this network, you cannot miss the methods to hack Snapchat.
Hack Snapchat from Wi-fi browsing log
Snapchat is one of the most fun interactive social networks with a large number of users. This is why many people will want to enter the account of any third party whom they wish to spy on, to know all their activity within the platform.
An infallible method to achieve this is through the navigation log, which is kept by Wi-fi routers. In case you didn't know, these devices record every activity on the internet, including logins to social networks like Snapchat.
The only requirement you need is to have access to your victim's devices, in this case the Wi-Fi router. Once there you can enter the history and see the passwords, account users, Snapchat and other social networks. The best thing is that you can do it without being detected.
Hack Snapchat with Google Activity
Another method used by less experienced, but still very effective, hackers is to use the information that Google stores in your history. Many people don't realize that Google automatically saves or remembers every login to any platform, including Snapchat.
The information stored by the browser includes the searches you perform, the web pages you visit, and most importantly, the personal data and passwords you save. One of the hacks most used by many hackers, once the information is obtained, is to use keyloggers or SCAM.
😮 How does it work?
To hack Snapchat from Google activity, you need to have access to the devices of the victim or person of interest. The devices must be linked to your Google account, so that you have a record of the websites visited and can steal your credentials.
If the victim meets these requirements, you can enter the following link My Activityand see all the activity, controls and details of the sites visited.
Hack Snapchat from browser history
A good practice for hacking Snapchat is to view the victim's browsing history, to do this you must follow the steps that correspond to the browser you are using. The browser history keeps and saves the entire record of the web pages that the victim has visited in a certain period of time.
You can see the browser history of the person of your interest, to know which pages they have visited, what their activity was while browsing. This means that, if the victim has logged into Snapchat in the last few days, you can go to the browser history and try to identify: email, phone number, password and enter their Snapchat account.
Spy on where your victim is from a mobile location
If you want to have a complete look at the victim's Snapchat account, you can try methods to track their phone. One of the best ways for you to spy and try to hack Snapchat is through Google's information about the location of a mobile phone.
You can use this information to steal or clone the person's Snapchat password, or send deceptive emails and messages asking them to connect to Snapchat from a fake link.
📱 This method to hack Snapchat requires the following:
You must gain access to the person's Google account, either by guessing their credentials, or by brute force or cloning methods such as phishing or keylogging.
Access the function "Find your phone" and select the person's device. From there, you will have the option to view the location of the device, you can lock it, erase its contents or make it ring.
This method can be used for extortion or identity theft purposes. For example, you could use locking the device as leverage to demand a ransom to unlock it.
Another tactic could be to activate the sound function of the device and contact the person posing as a technician who needs their Snapchat password to solve a supposed problem.
Track a device with Timeline Google
Track with Google Timeline It is another effective method to know everything about the person we want to hack in real time. In addition to being used for extortion or hacking purposes, allowing access to all the activity on our victim's device.
With this feature, you can see the last known location of any device on a map. Additionally, you can view location history and the route you have followed and more.
If you want to track your victim's device, you can activate tracking mode on their device. Of course, you must have access to it, otherwise it will be impossible to hack it. Timeline Google allows you to receive updates on your location or that of your victim in real time.
You can also remotely lock or wipe your device if necessary. You just need to follow these easy steps:
Open the Google app on your lost device or sign in to your Google Account from a browser on your computer.
Go to the "My Account" or "Settings" section and look for the "Security" or "Privacy" option.
Within the security settings, look for the "Timeline" or "Location history" option.
Make sure the feature is turned on and the device is set to send its location.
Select the device you want to track from the drop-down menu.
You'll see a map with your device's last known location and can view its location history.
If you want to track the device in real time, select the corresponding option and you will receive updates on its location.
You can also remotely lock or wipe your device if necessary to protect your personal data.
Remember that, in order to track a device with Timeline Google, you must have previously activated this function and have an active Internet connection on the lost device.
Security recommendations to avoid a Snapchat hack
Snapchat is one of the most popular instant messaging applications, especially among young people. However, like any online platform, it is exposed to security risks, such as account hacking.
To protect your Snapchat account and avoid being a victim of hacking, here are some security recommendations:
Use strong passwords: Make sure your password is strong and unique enough. Avoid using obvious or easy-to-guess passwords, such as your date of birth or the name of your pet.
Enable two-factor authentication: This feature adds an extra layer of security to your account. When you sign in to Snapchat from a new device, a verification code will be sent to you via SMS or email.
Keep the app updated: Regular Snapchat updates often include security improvements. Make sure you have the latest version installed on your device.
Be careful with suspicious links: Avoid clicking on unknown or suspicious links you receive through messages or emails. These links could lead to fake pages designed to steal your personal data.
Do not share personal information: Avoid revealing sensitive personal information through messages or posts on Snapchat. This includes information such as your address, telephone number or banking information.
Remember, online security is the responsibility of each user. Follow these recommendations to protect your Snapchat account and enjoy a secure experience on this popular instant messaging platform.