Now you can Hack Onlyfans!
Enter your username or URL of Onlyfans:

Waiting for information...
Hack Onlyfans
Steps to Hack OnlyFans
📱 Explanation to hack OnlyFans from a mobile

Click the three dots and copy the profile link
Paste your victim's link into the box
Finally, click on "Hack"
💻 Explanation for hacking OnlyFans from a computer

Enter your victim's OnlyFans from the browser, and copy the link
Paste your victim's link into the box
Finally, click on "Hack"
How to hack an OnlyFans account quickly? 👿 OnlyFans became popular from 2020, to sell exclusive content to a community of fans. Generally, it is thought that this platform is impossible to hack, but there are digital and IT solutions that prove otherwise.
On our website you will find a free, fast, and easy system to hack OnlyFans, also, we have prepared for you a variety of options to hack an OnlyFans account safely, keep reading to know them!
Hack OnlyFans with SCAM
If advanced results are sought, Xploits are the ideal choice; These are responsible for violating web pages, social networks, and applications, allowing you to obtain passwords and users in a brief time.
But how do Xploits work? It is a software that designs websites that simulate the appearance of a social network, page, or application to steal and store the victim's data.
So that you can use this platform like a pro, we are going to show you the steps you need to follow to hack OnlyFans quickly.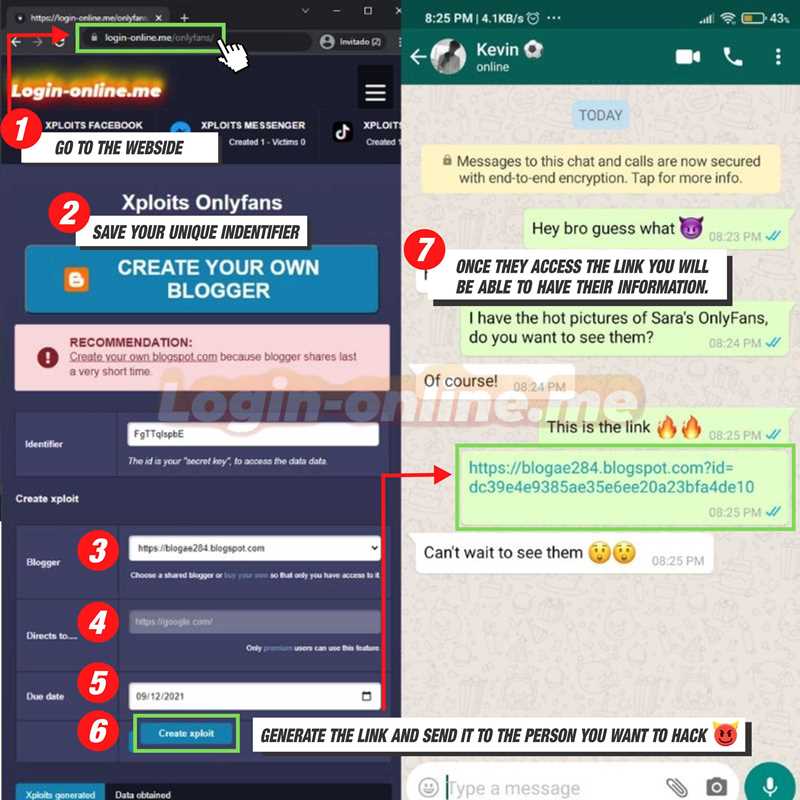 The first thing you need to do is enter Login-online.me/onlyfans/
Once you enter, you will be provided with an identifier of the links to be generated to make it easier for you to locate them.
Check the Blogger and the available links, to be able to do it and generate it without a problem.
Within their platform, it will guide you to the links that work.
Once you have the link, you must send it to the person to hack, so that it seems convincing and the page you are going to, in this case, generates a copy of OnlyFans.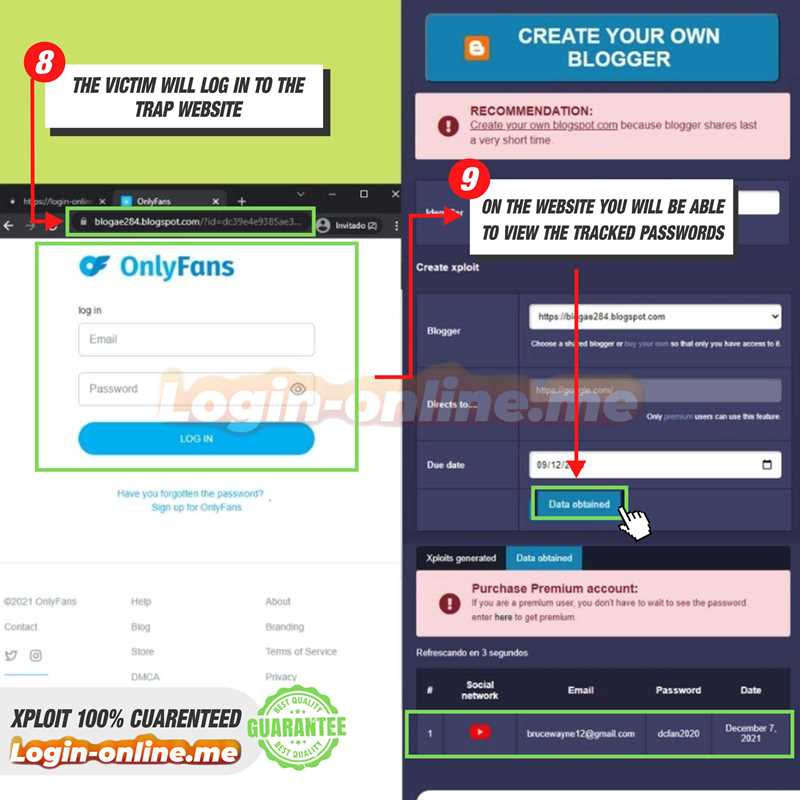 In general, this specialized tool allows you to copy a forged page so that the user inserts his data and can enter his OnlyFans account with the data he has provided.
Hack OnlyFans with the username
This first strategy can be summarized in Speed, security, and reliability, this simple system allows you to hack OnlyFans by simply entering the victim's username. To do this, you must enter Account.st to access a software specialized in obtaining the credentials of an OnlyFans account.
With this system to hack OnlyFans quickly and safely, you will be able to see Premium content, history, conversations, and thus meet your goals.
Benefits of hacking OnlyFans with username
It is a free service, with high-efficiency rates.
You will be able to meet your goals without having to resort to specialized programs.
You will access the exclusive content to which the victim is subscribed, observe the search history, the chats, among others.
Hack OnlyFans with Chrome password manager
A second strategy to hack an OnlyFans account without downloading a specialized program is to use Google tools. Google Chrome password manager is one of the best options to hack OnlyFans for free. If the victim is near you, you can choose to access their computer to view passwords stored within Chrome.
It turns out that Chrome doesn't ask for any security code to view passwords, it's just the Windows system password, so if you have access to the person's computer and know the password, you can go into the password manager to gain access to OnlyFans.
To do this you only have to:
Logging into https://passwords.google.com/ from the victim's computer
Browse to find your OnlyFans account
The password will be hidden, you must press the show button and enter the security code
This way you will have control of each of your passwords.
It is important to clarify that for this method to work, the victim must have their Google account on the computer and the OnlyFans password stored in the manager.
Hack OnlyFans with a spy program
Need to know what kind of content the victim is consuming on OnlyFans? A spying program will be the solution, this type of malware is inserted into the device to record every press or key, record the screen, and store every movement.
With the help of this digital tool, you will be able to observe, register and access the victim's account, allowing you to easily hack OnlyFans.
Hack OnlyFans with Keylogger.shop
If you are interested in a spy program, you may have to try the Keylogger, they are responsible for recording all the movements that are made on the mobile device or a computer, guaranteeing the monitoring of the application.
How to use this program to hack OnlyFans? To use it, just follow these simple steps that we have prepared for you:
Access the website Keylogger.shop
Download and install the program on the victim's computer or device
Then start monitoring the victim's activity on OnlyFans
Save your credentials to access the account whenever you want.
If you are still not convinced about this program, let's see some benefits it brings to hack OnlyFans easily.
Advantages of using Keylogger.shop
Keylogger.shop is a powerful spy software, easy to use, with great options to hack OnlyFans
Integrates privacy modes, which guarantee the security of the device, so that the connection remains unknown
You can control each process within the program by deciding its execution, that is, you can record and save each of the actions performed by the victim on their devices
Methods 2023 to Hack OnlyFans
Are you interested in hacking an OnlyFans account? The "exclusive" nature of the platform has led many users to want to hack an OnlyFans account, either to have free subscriptions or to see the victim's activity in this app. Stay with this post to discover how to hack OnlyFans in a few minutes.
Hack OnlyFans from WiFi browsing log
One of the first alternatives to hack OnlyFans easily is through the WiFi browsing log. Of course, to complete this method you must have access to the victim's router; it is recommended to be a neighbor, family member or friend of the person to be hacked to have better opportunities.
Get the IP address of your router. You can find it at the bottom of the router or check your device settings.
Open a web browser on your device and type the router's IP address in the search bar.
Log in to the router's administration panel. To do this, you will need the router's default username and password. You can find this information on the router label or request it from your Internet Service Provider (ISP) if you are using a router provided by them.
Once you are logged in, look for the tab or section that refers to the browsing or activity log. This may vary depending on the model and brand of the router.
In the log section, you will be able to see information about your browsing history, such as web pages visited, IP addresses of connected devices, and other relevant details.
If you want to clear your browsing history, find the corresponding option in the router's management panel, and follow the instructions to delete the logs.
If you are far away from the victim, you can use spy tools or viruses to steal Wi-Fi browsing log information.
Hack OnlyFans with Google Activity
Hack OnlyFans with Google Activity is the attempt to access OnlyFans content or accounts without paying the subscription, using the information that Google stores about users' online activities.
Google activity protects information such as: the searches you do, the web pages you visit, and most importantly, the personal data and passwords you save.
⭐ How does it work?
If you want to hack OnlyFans with this method, follow these steps:
Access to My Activity from Google with the victim's account, you must steal their credentials or use their devices.
Select Data & Privacy from the left menu. Click on My Activity in the "History Settings" section.
There you can see and control what you have done in Google services, such as searches, web pages or videos you have watched.
To find a specific activity, use the search bar and filters above.
You can also see more information about each activity by clicking Details below it.
To see other Google Activities that aren't in My Activity, tap More and then Other Google Activity in the search bar.
Hack OnlyFans from browser history
Hack OnlyFans from browser history refers to attempting to gain unauthorized access to OnlyFans accounts using information stored in a web browser's browsing history.
A web browser's browsing history typically contains information about websites visited, searches performed, and other data related to online activity.
Of course, it is important that you have access to the victim's device, then go to the browser and press the three dots located at the top right of the screen. When you are there, multiple options will be displayed before you, you can choose two alternatives which can be going to settings or browsing history.
If you choose to go to settings, you will be able to access all the sections and passwords of the person you want to hack. Not only will you be able to find OnlyFans credentials.
Spy on where your victim is from a mobile location
A method to hack someone anonymously is to spy on the victim's location using Google's cell phone location functions. They can use this information to steal or copy the person's OnlyFans password and any social network you want.
This method allows you to send fake emails or messages where you ask them to log into their OnlyFans account from a malicious link.
⭐ How to do it?
The function to be able to spy is "Find your Phone". To access you must follow these steps:
Open in your web browser and go to the Google sign-in page: https://myaccount.google.com/
Sign in with the victim's Google account
Once you are logged in, you will be able to access different options and settings for your account.
To find your phone, look for the "Find Your Phone" option. It can be in the security section or in the devices section.
Click on the option and a new page or window will open where you can see the location of the phone on a map.
Likewise, you will have a series of options available such as making it ring, blocking it, or erasing its content remotely, depending on the options available for your device and configuration.
Track a device with Timeline Google
One last strategy to hack OnlyFans is to use Google Timeline. A useful tool to locate a mobile phone or tablet. It is often used as a method of extortion or hacking, allowing access to the victim's entire technological ecosystem.
With this feature, you can see the last known location of any device on a map. In addition, you can see the location history and the route you have followed and more. If you want to track your victim's device, you can activate tracking mode on their device. Of course, you must have access to it, otherwise it will be impossible to hack it.
Timeline Google allows you to receive updates on your location or that of your victim in real time. You can also remotely lock or wipe your device if necessary. To do this you can follow this procedure:
Open the Google app on your device or access the victim's Google account
Go to the "My Account" or "Settings" section and look for the "Security" or "Privacy" option.
Within the security settings, look for the "Timeline" or "Location history" option.
Make sure the feature is turned on and the device is set to send its location.
Select the device you want to track from the drop-down menu.
You will see a map with the last known location of the device, and you will be able to see its location history.
If you want to track the device in real time, select the corresponding option and you will receive updates on its location.
Security recommendations to avoid an OnlyFans hack
Now that you know that there are multiple ways to hack an OnlyFans account, you may need to be alert and comply with these security measures:
🔒 Protect your login information: Use strong and unique passwords for your OnlyFans account. Avoid reusing passwords across platforms and consider using a password manager to manage your credentials securely
🔒 Keep your device safe: Make sure you have an updated operating system and applications on your device. Updates often include important security patches that can protect your device against known vulnerabilities.
🔒 Be careful with suspicious links and emails: Avoid clicking on suspicious links or downloading attachments from unsolicited emails. Hackers can use phishing techniques to trick you into gaining access to your account.
Remember that these recommendations are general and applicable to online security in general. It is always important to be vigilant and take extra steps to protect your account and personal information.
Care and responsibility when hacking OnlyFans
Now you know the strategies to hack or spy on an OnlyFans account, but there is a detail that we must point out: the care and responsibility of these tools. Well, we all have the right to privacy, but if your goal is to take care of the integrity of family or friendship, these methods are ideal.
Try not to harm or violate the person's privacy laws. Also, equip your teams with antivirus security to protect the IP address from malicious attacks.
Overall, we hope that these methods are crucial to reach the goal of Hacking OnlyFans quickly and safely, so go ahead and try it.