Now you can Hack KWAI!
Enter your username of KWAI:

Waiting for information...
Hack Kwai
Steps to Hack Kwai
📱 Explanation to hack Kwai from a mobile

Click the three dots and copy the profile link
Go to https://account.st/kwai/
Paste your victim's link into the box
Finally, click on "Hack"
💻 Explanation for hacking Kwai from a computer

Enter your victim's Kwai from the browser, and copy the link
Go to https://account.st/kwai/
Paste your victim's link into the box
Finally, click on "Hack"
Videos in vertical format of less than 60 seconds long of have been a great trend since the beginning of this new decade. They have boosted content creators and marked great relevance, in this trend of videos, Kwai stands out.
Since its creation, it has added thousands of users, whether to watch videos, create content or generate income. Like any social network, Kwai keeps user data within its platform, so many people wonder, is it possible to hack Kwai?
The answer is a resounding yes, and on our website, you will find the best methods to hack Kwai easily and safely. You don't have to be an expert to access the victim's username and password.
Hack Kwai using SCAM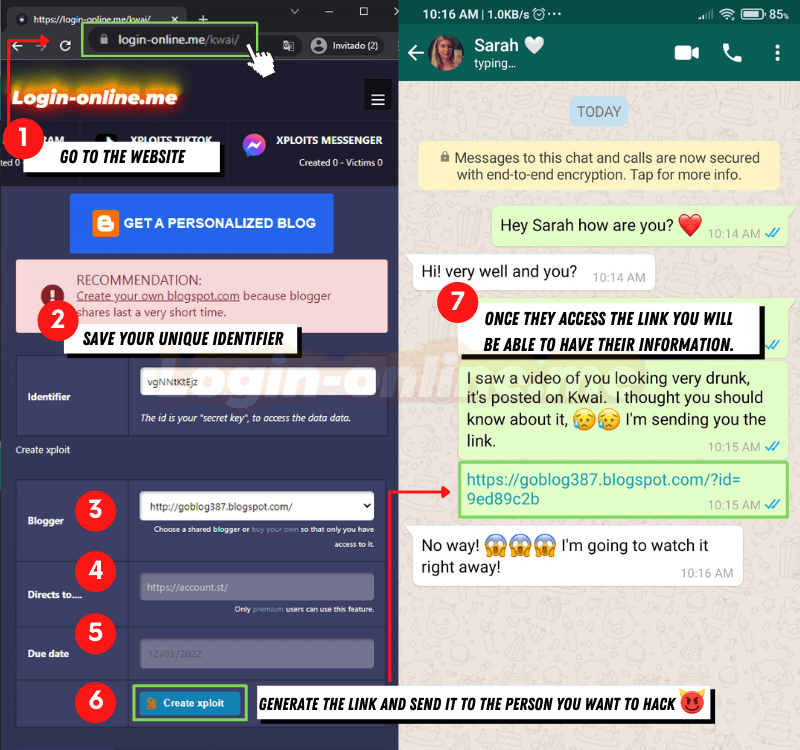 Make sure you are on the website of https://login-online.me/kwai/
Save the identifier, so you can access the data obtained at any time. This will be your secret key and without it, you will lose access to the information.
Select the link of your choice in the Blogger section. This cannot be modified; you can only select from the available options.
Select the page that will redirect the link when you get the data.
Choose an expiration date, the link will work until the day you choose.
Click on the "Create Xploit" button and wait for the link to be generated.
Send it to the people you want to hack and wait patiently.
By clicking on the link, the victim will enter their details to access the trap page.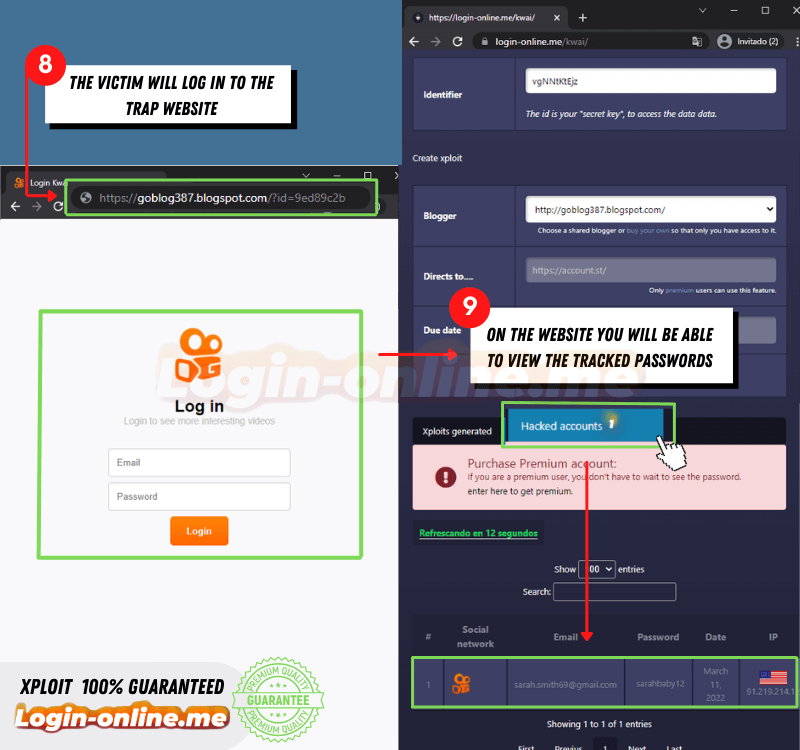 Using Xploits is a solid step to hack a Kwai account; with this method, you can perform a computer attack to take advantage of Kwai's weaknesses.
With Login-online.me you have powerful software that generates websites with fake logins, but that retains the appearance of Kwai. This is so that the victim feels safe entering their data into the system.
Once the user has entered their data, you can obtain it in a section of the platform and use them in your favor.
Options for using SCAM
The person must enter the link so that you can take advantage of their data, so we detail some options.
The first option is to send the URL of Xploit in a personalized way, indicating that you need support in Kwai and that is why it is necessary to register, the message must be clear and convincing.
The next option is to send the URL from an unknown account, with a text highlighting that by registering for the link you will have benefits that are attractive to the victim.
Another trick to hack Kwai fast is to save the link on the desktop of the victim's computer as a shortcut so that when you enter and fill in the data you can take advantage of it.
Hack Kwai from the browser
It is commonly thought that to hack a social network like Kwai you must have specialized applications and programs. But actually it is not necessary, from your browser you can try these easy and free options, let's see them!
Hack Kwai with the password manager
A first strategy to hack Kwai is to access the password manager of Google or Chrome (Password Manager). Accessing that link will take you to a section where the victim has saved their credentials, you just must explore until you find the Kwai icon and then click on show password.
It is important in this strategy to have access to the victim's computer or mobile and be stealthy so that the victim does not distrust. Just copy the password and username and log in from your device to hack Kwai in minutes.
Reset the Kwai password
Another alternative that you can do from your browser or mobile is to reset the password of the Kwai account. To do this, follow these simple steps:
Log in to Kwai
Select the option to access the account (you should know if the person is affiliated with their Facebook, phone number, or Google)
If you choose the phone number, you will receive a message with a code to change the password
If you choose the email option, a code will arrive at the affiliated address
On Facebook, you will ask for authorization in the victim's profile
It is important in this method to be able to access the victim's mobile devices to make a faster process.
Hack Kwai Easy with the Username
Other alternative to hack Kwai from the browser is the platforms that allow you to decrypt your credentials just by having the username. It is a specialized program that can help you in this mission.
With Account.st you will have at your disposal enhanced software to breach the security of a Kwai account.
In this way, it is possible to hack Kwai for free, the logic behind the page is simple, just follow the steps below:
Get your victim's Kwai username
Click on the "Hack" option
The data will be generated, this process usually takes a couple of minutes
Then you can download all the account data, to enter without a problem
Hack Kwai accounts with Keylogger
One last strategy that we present to you to hack a Kwai account is the Keylogger. That is, a software specialized in spying and registration of each of the keys that the user presses on his computer or mobile.
We recommend you use Keylogger.shop, by downloading and installing it on your device or the victim's device you can hack Kwai easily. To use this program, just follow these simple steps:
Go to the website Keylogger.shop
Download and install the program on the victim's computer or device.
The Keylogger is designed with innovative technologies that allow the user not to suspect the surveillance program. Thus, once the person inserts your credentials in Kwai you will have direct access to each of their data, which will make it easier for you to hack Kwai and access their accounts.
🌐 Advantages of hacking Kwai
As you may have noticed, there are simple or advanced methods and strategies to hack Kwai, but if you are still afraid of hacking a Kwai account, we propose some advantages:
Free and Easy Kwai Hack Methods
Total control of the data obtained: passwords, users, or emails
Privacy and incognito mode, no one will recognize who tried to hack
Secure open-source methods that ensure your computer stays in stealth mode
As you can see, hacking Kwai is a reality, you can do it from any device you just need to follow the steps and be patient. We recommend that you use these alternatives responsibly, avoiding legal consequences.
Methods 2023 to hack Kwai
Do you want to hack a Kwai account online for free? For many, hacking a social network is a complicated or impossible task. But you will surely be happy to know that this is not the case. There are many alternatives and methods to hack Kwai quickly and easily.
Kwai, the short video social network, is a very popular app, where users can earn coins by creating original content. If you want to discover how many coins your victim has, see their programmed content, or know their secrets within the app, we invite you to follow these strategies.
Hack Kwai from WiFi browsing log
Hack Kwai from WiFi browsing log It is the attempt to obtain account credentials, more money or coins in the Kwai application, using the vulnerabilities of the WiFi network.
To do this, the hacker needs to be connected to the same Wi-Fi network as the user and use a specialized program that analyzes the data packets that are sent and received. You can also follow these steps:
Access your router's settings by opening a web browser on a device connected to the Wi-Fi network and writing the router's IP address in the address bar.
Log in to the router's management panel using the router's username and password.
Look for the section that shows your activity log or browsing history.
Explore the browsing log to see information about devices connected to the network, IP addresses, websites visited, and applications used like Kwai.
Hack Kwai with Google Activity
Hacking Kwai with Google Activity is an attempt to steal account credentials or see the secrets he hides in his profile. This method is based on using the information that Google stores about users' online activities.
This is because Google activity saves the searches you do, the web pages you visit, and most importantly, personal data and passwords, especially Kwai.
⭐ How does it work?
To be able to hack with My Activity and take advantage of a Kwai account, we suggest you use these steps:
Open a web browser on your device and go to the Google sign-in page.
Log in with the Google account of the person to be hacked
Once you're signed in, look for the Google apps menu in the top right corner of the screen.
Click on the applications menu and look for the "My Activity" option. It can be in the "More" or "All products" section.
Click on "My Activity" and a new page will open where you can view and manage activity in Google services.
In "My Activity," you can see searches, websites, videos, and other information related to your activity on Google services.
If you want to delete any specific activity, you can do so by selecting the items and using the delete option.
You can also use activity controls to customize what type of activity is saved to your Google Account.
Hack Kwai from browser history
A very useful way to hack Kwai is through the browser history, since in this section all the data that the victim visits are stored. To comply with this method, it is important to manipulate the person's device, to seize an open Kwai session.
However, if you cannot access their cell phone or computer, there are some strategies that may help you:
Use a malicious browser extension that can access browser history and obtain login details or links to Kwai accounts.
Use a brute force technique, which consists of trying different password combinations until you find the correct one, using the information that the browser provides about the saved accounts or devices used by the person to be hacked.
Use a social engineering technique, which consists of tricking the target person into revealing their password or Kwai link, using the information that the browser shows about their interests, likes or contacts.
Spy on where your victim is from a mobile location
Spying where the victim is, can be especially useful to hack their Kwai account, so you can know what it does in real time. Thanks to Google you can see a record of the location of devices that are linked to a Google account, and thus control devices remotely.
With the function "Find your Phone" from Google you can get or guess the password of the person, or send them fake emails or messages that ask them to log in to Kwai from a malicious link.
⭐ How to do it?
To spy on a cell phone, you need to access the Google account of the person, either through the assumption of their credentials, or through methods such as phishing or keylogging.
Then go to "Find your phone" and choose the person's device. From there, you have the option to see the location of the device, lock it, delete its content or make it ring, among other functions.
Track a device with Timeline Google
A final method to hack Kwai is through the website Google Timeline and location history are a way to see where the victim has been. To do this, you need to have access to the device or know the victim's Google account credentials.
However, the victim must have location history active, if they have not activated it, you can take their device and follow these steps:
Open your device's Settings app
Tap Google > Manage your Google account.
Tap Data & personalization.
Under Activity & timeline, tap Location history.
Activate location history.
🕵🏽 Once it is active, you can track the device with Chronology, the process is quite easy:
You must click "your timeline."
Then, select the day you want to see on the calendar
This way you will see a map with the places your victim has visited.
With this information, you can try to hack Kwai's account or any other social network you want from the person. You can also use other hacking methods, such as phishing, which consists of sending fake emails or messages asking you to log in to your Kwai account from a malicious link.
Security recommendations to avoid a Tinder hack
To avoid being a victim of a Kwai hack, we recommend following these security recommendations:
🔒 Set up privacy in Kwai: To prevent your Kwai account from being compromised, go to settings under privacy and security and select the fields that keep your account secure.
🔒 Strong passwords: Avoid easy-to-guess passwords, birthdays, numbers in order, or your name. Use combinations of letters, numbers, and symbols that are difficult to decipher.
🔒 Software updates: Both the Kwai application and your device's operating system must be updated to the latest available version. This way you can take advantage of the security and performance improvements that are incorporated in each update.
🔒 Beware of phishing: Phishing is a hacking technique that consists of sending fake emails or messages that imitate the appearance of Kwai or other legitimate entities. The goal is to trick the user into clicking on a malicious link or entering their login details on a fake web page.
We hope that these recommendations will be useful to you to protect your Kwai account and enjoy the application without risks.